The Crossley & Coleman Group RVA LLC

Testimonials Of:

*Participants *Parents *Guardians *Chaperones *Supporters

"I really liked the tours because it opened me to new colleges I never knew existed.  The staff always provided us with food and drinks.  It helps us know what path we want to take when we get out of high school.  What amazed me the most is that everyone got along and I made new friends while I was on the tours."

Double click here to add text.

Lindsey Johnson, Participant - Sandston, VA.

Double click here to add text.

Jamaal Alford, Participant - Richmond VA.

"My experience was good on every tour.  I enjoyed each college campus and will go on future tours to other colleges." 

Nikisha Wilson-Lee, Supporter - Petersburg VA.

Double click here to add text.

"These tours help youth to dream big and knowing they can do anything they put their minds to"

TaTanisha Rodriguez, Supporter - Newport News VA.

"This gentleman has historically provided HBCU college tours and they are now expanding program offerings! This is great!

This is AWESOME! Though we've never actually met, I am proud of you! GREATER is here!"

Keona Staton, Participant - North Chesterfield VA

"Through the college tours I have attended, my knowledge  about America's HBCU's has given me a new found understanding of the great education system in place for inner-city youth and youth in general.  Being able to attend the Inaugural College Tour to VUU, VSU and NSU gave me the opportunity to choose my school of choice, which is NSU - Norfolk State University.  Thank you H.B.C.U. Edtours Inc."

George Harris, Supporter - Lake Monticello VA.

"Kev Crossley, this is a beautiful thing that you are doing for students in the Richmond area. My youngest son struggled in school. He attended NSU, and it was by the grace of God, myself and my wilfe taking him to tour NSU  ....It would have been awesome if this program existed back then.  May God bless you and your team with this endevor."

"Congradulations.  What an awesome gesture."

Double click here to add text.

Edwatd Riley, Supporter - Aston PA.

"Just wanted to tell you to keep up the good work. I'm from Richmond but now live in Pennsylvania and also take part in cleaning up here in my city.  I pray you get all the help you need."

Marcia Milton, CEO/President of First Priority Trailways, Supporter - Bowie MD.

Double click here to add text.

"H.B.C.U. Educational Tours gave me the opportunity to look at historically black colleges and universities, specifically Livingstone College and Johnson C. Smith University. The insight gained is presently helping me with the college application process. I really enjoyed myself on the tour and I hope others will too.

Thank you for the opportunity

Jamil L. Scott

Huguenot High School

Class of 2021"

Jamil L. Scott, Participant - Richmond VA

We would like to thank H.B.C.U. Educational Tours & Programs Inc. for providing my son Jamil Scott and others with the opportunity to tour several colleges and universities.

As alumnus of Virginia State University, my wife and I appreciate and support the role HBCU's has and continue to play in the African-American community. 

Thank you again and keep up the good work!

Mr. & Mrs. Jerry L. Scott Jr.

Mr. & Mrs. Jerry L. Scott Jr., Parents - Richmond VA.

Parents: Eric & Lorna Moss

My family and I were blessed with the opportunity to attend the tour of the African American Museum where we were educated on more of the history and contributions of our fellow African Americans which left us feeling encouraged and empowered. Prior to this, my sons had experienced numerous tours with this organization. To have been relieved of the financial burden for the expenses of this trip was unique and invaluable. This program has afforded my children (as well as many others) the opportunity to visit HBCU's and other historical places when they otherwise may not have been able to. The staff was always very courteous and professional, kept us informed about upcoming trips. I think that programs like this are needed in the inner-city as a means to fuel the aspirations and ignite the potential of our future generations.

Malachi Green, Henrico Cty, VA - Participant

I really enjoyed the experience. I feel that I really learned a lot from student that I heard from that attended HBCU's. I was impressed with their willingness to share all their experiences. I learned things about the history of African Americans that gave me a sense of pride. I would encourage anyone that has the opportunity to take these tours to do so, as I feel that it was a eye-opening experience for me.

Raheem Pope, Henrico Cty, VA - Participant

Prior to this trip, I had little knowledge about HBCU's. Coming off of this tour, I came away feeling more educated and had a feeling that I could relate to those that attended HBCU's in a meaningful way. It helped me to learn about scholarship opportunities that are available to me. Those students that I met, gave me the impression that they took pride in their educational experiences and other opportunities at HBCU's. I definitely feel positive about the possibility of attending one of these great institutions of higher learning, know as HBCU's.

News and Reviews for H.B.C.U. Educational Tours & Programs Inc.

3600 W. Broad St., Richmond VA 23230

The Inaugural Tour.... July 17, 2019

*Virginia Union University *Virginia State University and *Norfolk State University

The Journey Continues.... August 8, 2019

*Morgan State University and Bowie State University

The Inaugural College Tour - Video

The Journey Continues College Tour - Video

The road to success College Tour - Video

The Road To Success.... November 11, 2019

*North Carolina Central University and North Carolina A&T State University*

"The Power Of Education.... College Tour - Video

The Power Of Education.... February 17, 2020

*Johnson C. Smith University and Livingstone College*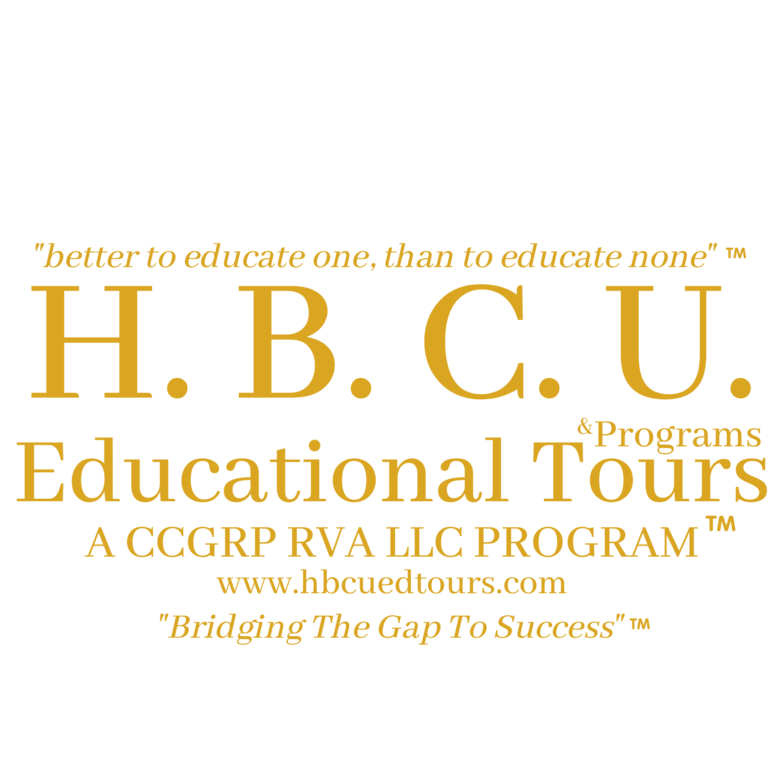 "The endless journey into education....  Our success."

"Educate the mind...."

*The journey begins with you*

LOOKING BACK, BUT NEVER TURNING BACK

"The journey is only as strong as the traveler!"

Clean City Programs.... Inaugural City Clean Up Video

*A Historical Journey Into Civil Rights*.... Historical Tour - Video

A Historical Journey Into Civil Rights.... April 10, 2021

*The Robert Russa Moton Museum, Farmville VA.*

"The Reflection Of Excellence College Tour - Video

*look at the greatness in me*

"The Educate The Mind.... College Tour" Video

*the journey begins with you*

"The Educate The Mind...." College Tour, March 26, 2022

*Fayetteville State University Open House*